Wedding series: Preparing my skin for the big day
7:00 AM
This post has been compensated by Collective Bias, Inc. and AcneFree. All opinions are mine alone. #AcneFreeSummer #AcneFreeLife #CollectiveBias

Like some of you may already know, after
almost
3 years of being engaged we finally set a date. So you know what that means right? It's time to start planning and getting ready for the big day. Like every other bride-to-be out there I want to make sure I'm going to look and feel my best on my wedding day so one of the things I wanted to start working on right away was on my skin.
Ever since I was a pre-teen I struggled with acne and that is something I keep dealing with till this day. Luckily I rarely have breakouts on my face anymore. However my arms, back and chest are a whole different story. That is my main concern right now because I have my eyes set on a beautiful sleveless-open back wedding dress, and the last thing I want is having blemishes all over my body.
I get a lot of breakouts on my body specially during the summer when I'm the most exposed to the high heat and sweat, reason why this summer I started using some
AcneFree
products on my everyday routine to help me clear up my skin and prevent me from having any new breakouts.
AcneFree
is an affordable line designed to help care for acne-prone skin . These are the products I've been using. You can get them all from Walgreens, or simply click on the image to shop my favorites!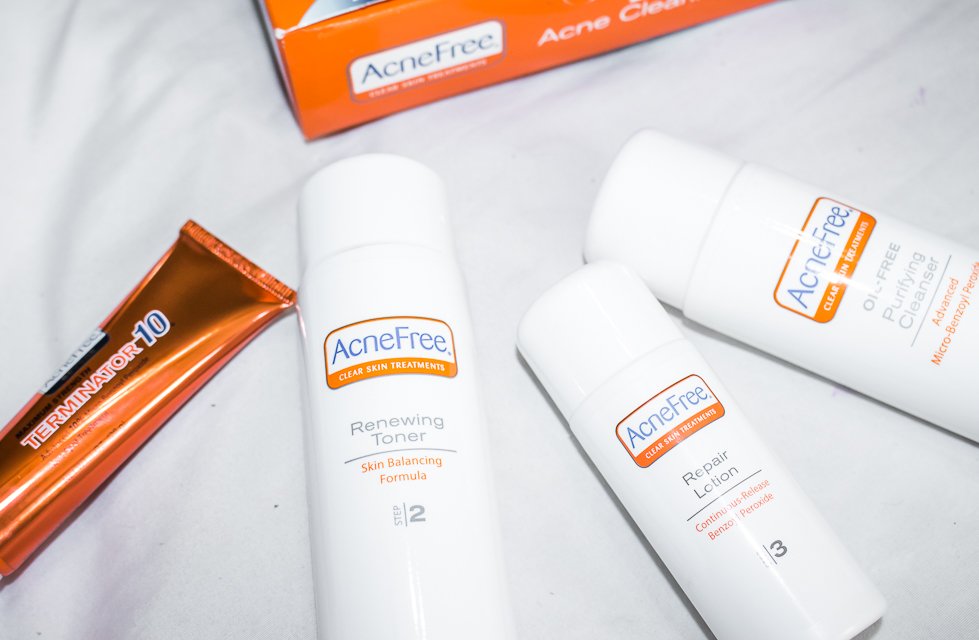 I use the AcneFree 24 Hour Acne Cleansing System mornings and nights. This 3 step systems consists of a Oil-Free Purifying Cleanser, Renewing Toner, and Repair Lotion. Both the Cleanser and Lotion have Micro-Benzoyl Peroxide 2.5% the main ingredient to fight acne.
The first step is the Oil-Free Purifying Cleanser – This contains microbeads to remove pore-clogging,excess oil and eliminate acne bacteria.
After rinsing the Cleanser, it's time to apply the Renewing toner with a cotton swap. This toner has chamomile and aloe that helps control oil and balance uneven tone.
The last step is the Repair Lotion which helps to stop new breakouts before they start.
On those rare ocassions when I get a pimple on my face I use the AcneFree Maximum Strength Terminator 10%. To apply it I simply add a little bit on the problem area twice a day. It not only makes any breakout go away faster, it also helps to reduce redness.
Participate in the #AcneFreeLife Sweepstakes – See Visible Results in As Few As 3 Days!
AcneFree is launching a 4-week sweepstakes on August 14th, 2017. 3 Grand Prize Winners will win $1,000 spending money and AcneFree Supplies for a year. Additionally, AcneFree will give away 10 AcneFree® 24 Hour Acne Clearing Systems every week for 4 weeks.
No Purchase Necessary. To enter, simply enter your name and email address at
http://cbi.as/9rasp
Use the form to follow on Instagram and Facebook to earn extra entries.
For more information full rules, log on to
http://cbi.as/9rasp
Have you tried Acne Free before? Let me know your thoughts on a comment below.